Posted by Melissa in Uncategorized | 7 Comments
Toddler Talk Thursday, Week 28, Toddler Beds!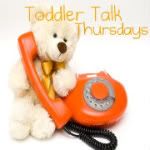 Welcome to week 28 of Toddler Talk Thursday! Where Family and Life in Las Vegas, Crazy about My Baybah, and My Life as a Sippy Cup Mom talk all things Toddler!
Toddler Talk Thursday was created as a place for moms and dads of toddlers to come together over a weekly topic and share ideas, go-to toys, or products. It is a great way to meet other bloggers of toddlers. Each week the topic will be different; we invite you to link up, share your weekly Toddler Talk!!
Each week the hosts will travel around to each blog that links up, and pick an idea, story, or picture they think was a great example of that weeks topic. In order to qualify for this you need to blog about this week's topic, and follow the hosts. Comments letting us know you are participating are always great too. If we choose your blog, we will link back to your post the following week.
Our highlighted blog this week is:
We love the picture of you and your little guy!
This week's topic is :
Have you put your toddler into a bed yet? Share tips/tricks!
Putting SAP in her own bed was a big decision.  We wanted to save money and go straight for a twin sized bed, but worried about her falling out and the fact a twin bed would  not fit in her room with all of her other stuff!  I also wanted to get an eco-friendly, toxin-free bed if possible, something that would last a long time and be useful for years to come.
We moved SAP out of her crib the day before New Year's Eve.  The months before hand we had had incidents where SAP's legs were getting stuck in her crib bars and getting bruised and we were afraid of worse injuries, she was getting too big for her crib and we felt the safest route would be to move her to a toddler bed.
After doing research on what we could afford, what would fit in her bedroom, and what would be practical, I found on sale the Pkolino Toddler bed, with free shipping, at
CSN Stores
!  You know how much I love them, this is one reason why….they always have what I want at the best price and free shipping.  Awesome, plain and simple.
The Pkolino was chosen because it had wooden side rails I felt would be more stable than the mesh we would have had to pay more money for at the store, it was low enough to the ground she could get in herself, and when she moved up to a Twin bed, it actually folds into a lounge chair!  What other toddler bed does that?!  That was the selling point right there!  The price was right and it was non-toxic.  Perfect.
The box sat around in our dining room area, and was even used as a presentation table during my Healthy Home Party!  We were a bit apprehensive since we had other big changes going on at the time with holidays, travel, potty training, and switching daycares, so I was unsure how she would respond to a big change such as this.
The large box made a perfect demo table during my Healthy Home Party!  lol.  Yes I'm that creative!
Finally, one day, SAPsDaDa (and SAP!) put it together! It was quite easy to understand how to put together, though it was made a little difficult with SAP climbing on top of everything trying to help!  How could I stop her, she was so cute!
SAP "helping" SAPsDaDa put together her bed!
No matter what distraction technique I tried, she would not leave Daddy alone!  She couldn't figure out what he was doing!
After the bed was put together, we had to take apart her crib.  We decided to make a little "bye bye" ceremony out of it!  She loved helping take it apart and saying "bye bye" to all the pieces!
The "bye bye" ceremony of her crib.  She was self-soothing herself and sucking her thumb a lot, she was a bit confused what was going on!
Finally we had the bed in her room and everything set up!  She loved it!  She played on it right away…and made us worry that now she would associate her bed with play and not sleep.  Soon, night told us the answer.
SAP is a wonderful sleeper.  Unless she is sick or something is wrong, she will put herself to sleep by herself and stay in her crib all night.  In the morning she would sit there playing with her toys or reading a book.  We had become accustomed to getting sleep at night and didn't look forward to the potential of no sleep!
SAP playing on her new toddler bed!
I should have known my little girl would be wonderful.  SAP laid in her bed under her blankets and we read her a story.  Kissed her good night and turned off the light.
SAP her first night in her Toddler Bed…not ready for bed yet but definitely sleepy!
She went to sleep and slept all night!  whoo!!
It's been that way ever since.  She loves her bed.  She has her special pillow, her blankies, and her stuffed animals.  Mommy and daddy can now sit next to the bed and read her stories in bed instead of rocking in the rocking chair and putting her in her crib after stories.  She can get up in the morning and play with her toys instead of waiting for mommy and daddy to come get her.  Even nap times have become more pleasant!
SAP, as happy as can be, going to bed at night.  This was when she had been in her bed for about 1 month.  Now we're at 2 months!!
I know not every toddler is as easy as SAP is with sleeping, we got lucky!  But some tips for moving to a bed.
Safety is number one.  Your toddler will have free reign of the room without your supervision now, so you have to make sure it's safe!
Make sure all dresser drawers have latches so they cannot be pulled out and climbed up on.  All book cases and large or heavy furniture should be secured to the wall so it will not tip over on your little one.
If you can, put all toys away in drawers or closets, and close closet door.  If the toys are put away out of sight your little one will be more likely to concentrate on sleeping instead of playing.  Out of sight out of mind!  We have a bi-fold door closet and close the doors, then latch them as well so they cannot be opened until the morning.
Get wooden rails for the bed (toddler or twin) if you can!  MUCH more stable!  Mesh tends to rip easy and doesn't stand up to the test of time, so the money for wooden ones will be worth it!
My number one tip:  Safety gate at the door to your toddler's room!  This way they will not get out and wander around the house if they wake up in the middle of the night.  Keep them in a safe room where you know they won't get hurt.
Trouble with your toddler getting up too early or not staying in their bed when you want them to?  Try this!  It's the Good Nite Lite Behavior Modification Light!  I LOVE this!  It's night/day clock, so toddlers can easily understand time of day.  When the night shows they stay in bed, when the sun comes up on the clock they can get out and play/come get mommy and daddy.  This can solve many issues!  Plus it's a great night light!
If your kid wakes up before you and you want them to stay in their room and play quietly so you can sleep, get a KidSwitch for your light switch.  This will let them turn on the light themself without climbing  on stuff and hurting themselves trying to reach it or coming to get you to turn it on for them.  Another product I love 🙂
Finally, if your toddler is potty training and needs a potty accessible at night, make sure to keep a potty chair in their bedroom at night time if you have a gate at their door.  This is another reason why a KidSwitch is a good idea…helps them aim better if they have light!  lol!
I'd LOVE to hear your stories and tips!  🙂